SEPTEMBER OFFER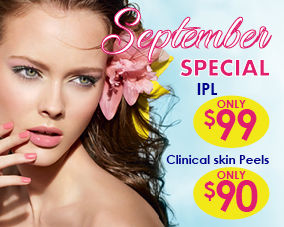 Intense Pulsed light or E light treatment for Pigment, ageing and vascular
$99 for one area, Face neck or chest will not only correct the visible appearance of the skin
but will plump and firm the skin creating collagen production on the area treated.
Also this month we offer a Lira clinical skin peel for your face, neck or chest for $90 with omni luxury lights for 10 mins to accelerate healing and efficiency. Our Omni Luxury lights are manufactured in Germany that claims the most effective and efficient LED machines worldwide.
The peels offered are TCA, Jessner or Hydroxy for pigmentation, scarring or antiaging and tightening. These peels are safe and effective that will renew the skin on your face neck or chest. Please call the salon to book in for September or pre purchase a maximum of three before the 29th September 2017.
Renew and refresh all over with a Coconut Body Indulgence $100 1hour
Allow your mind to drift off to tropical islands while your body is nourished and calmed.
A gentle sugar rub exfoliates the skin before wrapping your body in a creaming lotion that
will rapidly hydrate, condition and prevent moisture loss. Finishing this highly moisturising treatment is an application of body lotion, helping to protect the skin from environmental elements and maintaining the skins own suppleness and radiance.
Add an express facial for $30